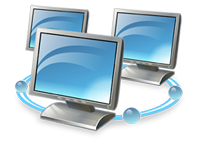 We offer Network and Computer Services to small and midsize businesses
at HALF the PRICE…!
The evolution of the Internet has enabled our technicians to do most of the tech support work remotely from India. And that is how we are able to offer network and computer services at less than half the price. However, many problems related to computer hardware cannot be solved remotely… and we have to send our technician to your office. For onsite services, we still offer affordable prices. Based on our past experience, a customer can save 30% - 40% per year because of the remote services.
We also offer flat-rate monthly contract for remote maintenance services.

Onsite Consulting Services

As your business grows, you will need to expand your network, add more PCs and peripherals, and upgrade your Server. Planning of your IT expansion at an early stage will help you in the long run. Our experienced consultants will evaluate your present & future needs, and assist you in planning and developing the roadmap for your IT growth, while you focus on the growth of your business.

On-Site User Support

MDEC technicians provide hands-on support related to computers, peripherals, networking and Internet to your employees in your office. The day-to-day issues include:
Problems related to printers, scanners and other equipment
Installation of software applications and basic training about using the software
Email and Internet Browsers
Windows Operating Systems
Network and Internet related issues – logging on to the Servers, passwords, user profiles, Domain Controller, IP addresses etc.
Network and Computer Hardware Services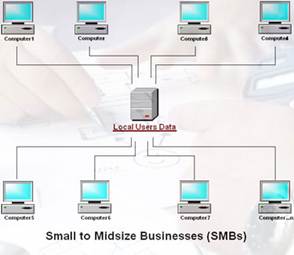 MDEC has been providing network design, installation and maintenance services to small & mid-size businesses (SMBs) since 1994. Our engineers will design your network that is capable of growing cost-effectively along with your business. Most of the services related to the hardware are performed on-site by our technicians.
Network cables installation for LAN (local area network) and WAN (Wide Area Network)
Wired/Wireless Network equipment installation, setup and configuration (Routers, Access Points, and Switches etc.)
Servers, desktop PCs, Laptops, printers, Scanners, UPSs and other equipment setup and configuration
Computers, printers and other equipment repair/upgrade – memory, CPUs, network cards, power supplies, motherboard batteries, UPS batteries, printer cartridges and toners etc.
BIOS and firmware updates for motherboards, RAID controllers etc.
Computer Software Services
MDEC offers software installation, upgrading, data conversion, and configuration services to small and midsize businesses.
Operating Systems: Windows Server 2008, 2003 and 2000; Windows 8, Windows 7, Windows Vista, Windows XP, Windows 2000, Windows 98, DOS
Databases: Microsoft SQL Server, MySQL Server, FileMaker Pro & Microsoft Access – design, customization and management
Office Software: Microsoft office 2010, 2007, 2003; Office XP, Adobe Photoshop, CorelDraw Suite, MS Publisher; Word Perfect Office and many others
Accounting Software: Peachtree Complete Accounting, Quick Books
Computer Security Services

The Internet has revolutionized the world during last few years. While it provides a window to the world for a user, it also makes his computer vulnerable to viruses and hackers. This problem becomes more serious for a business where the valuable data is stored on a networked Server.



To protect your computers and valuable data against viruses and unauthorized hackers, MDEC's experienced technicians will install, configure and regularly update world's leading Antivirus, Anti-malware and Firewall software. However, if your servers or computers get infected by a virus or Malware, our technicians have the expertise to completely remove the virus and recover your valuable data.
Antivirus/Internet Security software installation and updates
Malware/Spyware/Adware software installation and updates
Scanning of computers with antivirus/anti-malware software
Installation and configuration of Firewall software
Removal of viruses, Spyware, Malware etc.
Backup Services

We highly recommend our RTB software www.RealTimeAutoBackup.com for backing up your data files. Once installed on a computer, it instantly recognizes any file created/modified and backs up automatically at a destination drive assigned by you during initial setup. RTB works in the background and does not slow you down – you can continue working on the computer. However, if RTB is not applicable in certain situations, we offer DAILY backup services.
System Backup and restore
Web based email backup and restore – Gmail, Hotmail, and Yahoo etc.
Database backup and restore
Remote Maintenance Services

The following services are performed by MDEC technicians from remote locations during after-hours. These services are performed more efficiently at night when your office employees are away from the computers. The 10-hour time difference between the U.S. (EST) and India helps MDEC technicians perform these services from India… resulting in 50% cost savings to you. However, if needed, our technicians in the U.S. perform these services from their Maryland office.
Software Updates for:
Windows operating systems
Antivirus programs
Web Browsers
Software programs: Microsoft Office, Adobe Acrobat, Skype etc.
Management, Troubleshooting and fixing problems for:
Windows operating systems – Win Server 2008, 2003, 2000; Win 8, Win 7, Win Vista, Win XP
Networks – Wired/Wireless LAN, WAN; Router configuration etc.
Application programs - MS Word, Excel, Outlook, Internet Explorer and many others
Desktop maintenance – Windows 7 user profiles, roaming profiles etc.
Database management – purge, compress, re-index, backup and recovery etc.
Server/System Maintenance – Email accounts, user profiles, domain controllers, DHCP and DNS, network and security policies, Firewalls, terminal server, monitoring error logs etc.
PC optimization to improve performance/speed
Daily computer scanning for viruses etc.
Backup of databases and web based emails
Removal of Viruses, Malware, Spyware, Adware etc.
www.RealTimeAutoBackup.com