MDEC International… Your Business Partner for…
Custom Software Outsourcing, Website Development Outsourcing,
Network & Computer Services, Real Time Auto Backup Software… !!!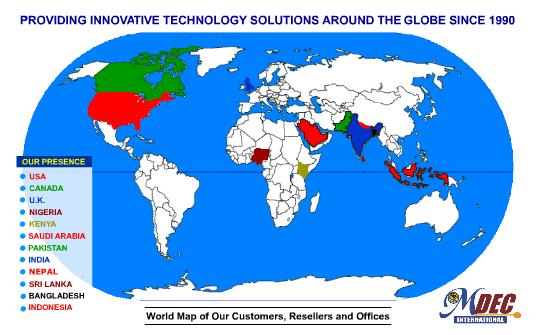 ---
---

MDEC International is a Small Disadvantaged Business (SDB) Information Technology (IT) & Engineering company with its offices, resellers and customers in 12 countries. The company was incorporated in Maryland (USA) in 1990.

MDEC opened its R&D center in India in the beginning of 2001. This strategic move was initiated to combine state-of-the-art technology available in the U.S. with cost-effective, top quality software professionals and engineers in India. Our U.S. engineers perform the system level design while our India programmers develop the software and hardware. Together, we make a winning team providing the best quality products and services at affordable prices to our customers around the globe.



MDEC offers custom software development services (also referred as custom programming services), website development services including Website Optimization (also referred as Search Engine Optimization - SEO), Real time Automatic Backup software and services, Fail-Safe IT Solutions, Poultry Management software and many other products and services.